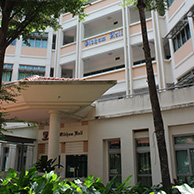 William Fitzjames Oldham came to Singapore on 6 February 1885 as a young missionary to establish a Methodist Mission. As a gifted teacher, he immediately saw the need for a young society to be educated and determined to set up a Methodist school instead. By 1886, enough funds had been raised and on 1st March 1886 Reverend Oldham and his wife established the Anglo-Chinese School in a shop house along Amoy Street. It was a school by day and a boarding school by night for students who needed boarding and lodging facilities. The ACS school building continued to house missionaries and young boarders until 1888, when boarders were relocated to a separate boarding house in Oldham Lane known as Bellevue, located near to the present Plaza Singapura off Orchard Road. In 1896, the boarding house was demolished and rebuilt in 1897. In 1902, the boarding house was renamed Oldham Hall in honour of Bishop Oldham. On 14 December 1926, Oldham Hall moved to Dunearn House at Barker Road. Since then, it has been rebuilt twice, once in 1985 and most recently in 2001, together with the redevelopment of the Anglo-Chinese School (Barker Road) Campus.
The current ACS Oldham Hall reopened at the end of 2002 as a co-educational boarding school for students from ACS as well as other nearby schools. We also accept international and foreign students studying in other local schools and international schools. It enjoys close proximity and spiritual affinity with Anglo-Chinese School (Barker Road) and Barker Road Methodist Church.
To provide a family atmosphere that nurtures all boarders and staff.
To create a secure and supportive environment so as to facilitate the holistic development of boarders into mature and caring young people who can contribute meaningfully to the local and international community.
To affirm all boarders as valued persons with potential in the eyes of God and to care for their well-being in order to support their growth as well-rounded individuals.
To impart Christian values and to encourage the spiritual growth of all members of the Hall.
Our Vision
Be the premier boarding school that seeks to provide a safe and secure environment for our boarders, while maximizing their potential through the sharing of Christian values.
Our Core Values
ACS Oldham Hall is run based on the 5 basic core values (i.e. Integrity, Responsibility, Respect, Humility and Self-Discipline). These are the same values that we impart to our boarders as they live together in a community.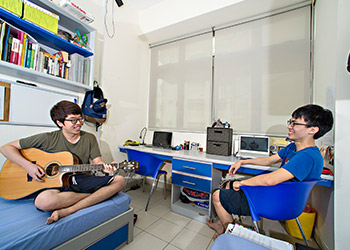 Self-discipline
The training that one gives oneself to accomplish a certain task or to adopt a particular pattern of behaviour, even if one would rather be doing something else
The assertion of willpower over more base desires, and is usually synonymous with self-control
The substitute for motivation, when one uses reason to determine a best course of action that opposes one's desires
Our Awards / Affiliations